Browser Checks for your

JavaScript app.
Know when your JavaScript app breaks, before your customers do.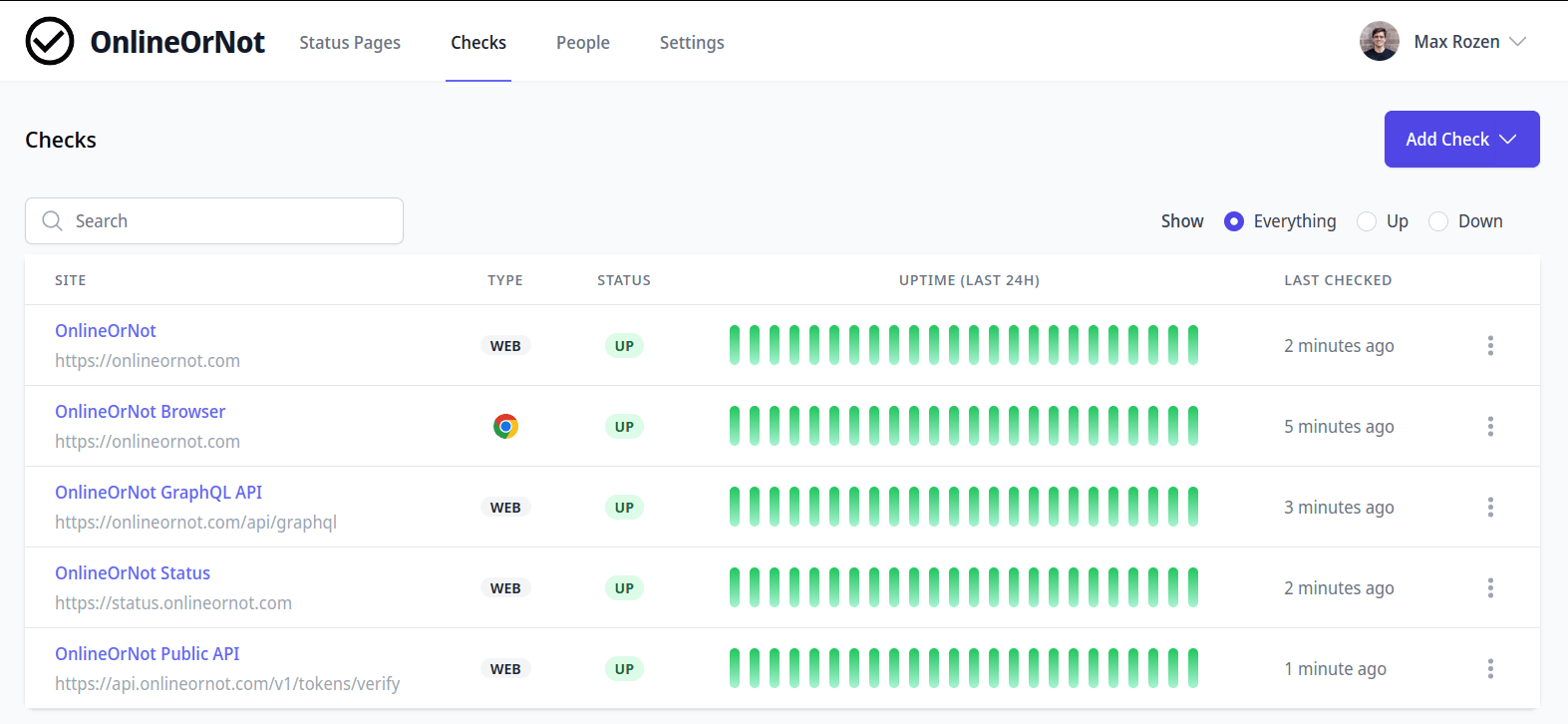 How it works
OnlineOrNot builds website monitoring tools - the first of which was a uptime checker.
After running a few million checks, my customers were asking why I didn't support Single Page Applications (SPAs) like React - and the answer was pretty simple: the basic uptime checker is better suited for static pages.
With OnlineOrNot's Browser Checks (powered by Puppeteer), you can now reliably check whether your React (or Vue, or Angular, or whatever comes next) apps successfully render, and display the text you expect.
Browser Checks supports:
Loading your web app
Searching for text on the page
Retrying, and waiting for several failed checks before alerting
Sending alerts to Email, Slack/Discord, SMS, and Webhooks when things go wrong
Features
Real Browsers
Browser Checks are run in real Chrome browsers, isolated from each other for extra security.
Verified Alerts
Each failed check gets retried, and re-checked in separate regions before sending you an alert.
Alerts where you need them
Get notified when your check starts failing and when it works again via SMS, Email, Slack, and Webhooks.
Text Search
Search your page for text to catch blank pages that don't display obvious errors (such as React, Vue and Angular apps)
Bring the whole team
Monitoring is your whole team's job, not the responsibility of just one person. Bring your whole team at no extra cost.
People ❤️ OnlineOrNot
OnlineOrNot is built for scale and runs millions of uptime checks every week. Thousands of sites, startups and some of the world's leading brands have already made the switch from other uptime monitors.
Uptime Checks last week

2.7M

Customers

1,292

Detected incidents last week

4,367
Bet on indie hackers 🚀

Tried @RozenMD's OnlineOrNot uptime monitoring, and for a few days got notifications of 2min down time.

Thought that his tool was wrong as uptime robot didn't reported those downtime.

Turned out it was the other way.

Khaled Bentoumi

Founder of Data to Page

OnlineOrNot does the job for me.

Charles Miller

Software Architect at Atlassian

I just set up some site aliveness checks for @Archium_io with @RozenMD's OnlineOrNot.

Took me less than five minutes and it was completely self-explanatory, not to mention gorgeous. Seriously good experience.

Great job, Max! 👏👏

Graham Lea

Founder of Archium.io

OnlineOrNot by @RozenMD is all one needs

It is easy to set up and very reliable. I have been using it for almost an year now.

Rajat Saxena

Founder of CourseLit

I'm using OnlineOrNot to monitor my @cloakist customers' sites, so I can respond quickly if they stop working

Love it. Super clean interface, very intuitive. Particularly impressed at how it can wait for full page load

Thanks @RozenMD for making this awesome tool!

Louis Barclay

Founder of Cloakist
Start monitoring
in 30 seconds: